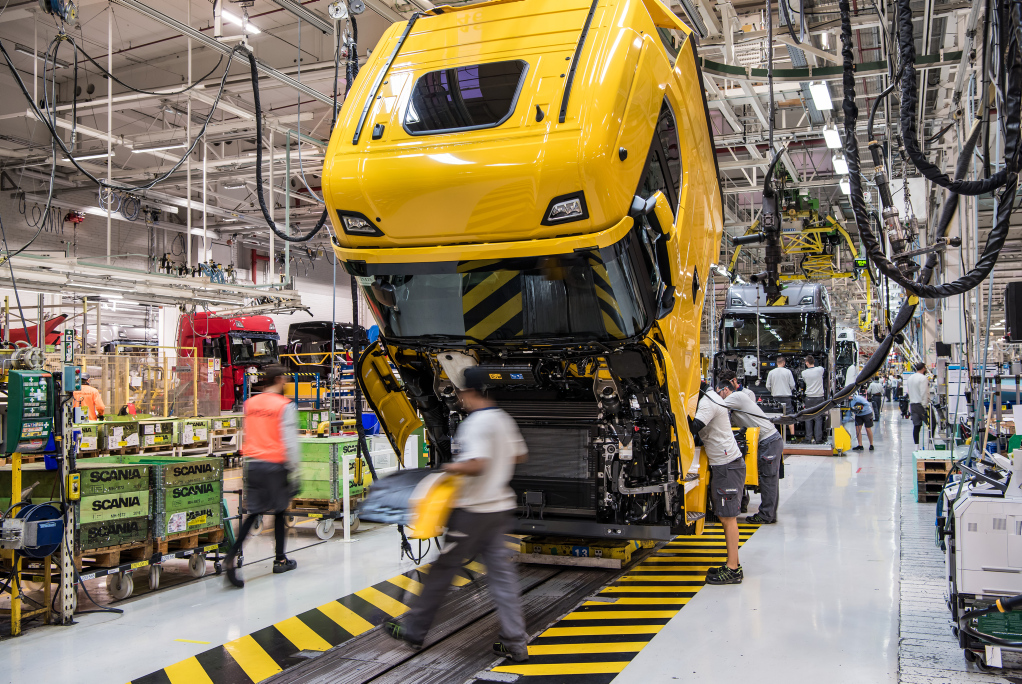 Scania Industrial Maintenance continues investments in Leonova Diamond
Scania Industrial Maintenance manages the preventive maintenance in all Scania production facilities in Sweden. The operations in Södertälje have already replaced their previous instruments for route-based measurement in favor of Leonova Diamond. Now, Luleå and Oskarshamn follow suit, each ordering this high-performance instrument for condition monitoring.
Scania's production unit in Luleå manufactures rear axle housings, side members, crossbeams, bumpers, and other frame components for Scania's chassis assemblies in Sweden, France, and the Netherlands. The processes in Luleå include pressing, welding, machining, roll forming, and surface treatment.
Evelina Lindström, Maintenance engineer at Scania Industrial Maintenance in Luleå, commented on what the choice of Leonova Diamond means for their maintenance work: "Starting regular vibration measurement on equipment, including our multi-operation machines, will help us see trends and thus be able to perform the right maintenance at the right time. This will help increase the technical availability of Scania's machine park in Luleå."
At Scania's manufacturing facility in Oskarshamn, truck cabins are manufactured and assembled for the entire Scania production in Europe. The operation's advanced process is organized in five different workshops for sheet-metal stamping, body-building, priming, final painting, and final assembly. The efficient maintenance of production equipment is necessary for production in both locations to run without interruptions.
Sören Bredhammar, Group Manager for Maintenance support at Scania Industrial Maintenance in Oskarshamn on why Leonova Diamond was chosen: "We have production-critical equipment where we will have better control over the mechanical condition to avoid emergency stops and breakdowns. Our strategy is to move towards more planned (condition-based) maintenance."
Leonova Diamond comes with SPM's patented measurement technologies HD ENV for vibration monitoring and SPM HD for bearing measurement within a vast RPM range. Condition monitoring with HD technologies provides exceptional pre-warning times for deteriorating mechanical condition in bearings and gearboxes, with very clear measurement results owing to unique digital signal processing. On variable speed machines, HD Order Tracking provides crisp and clear spectrums where the frequency range will always cover the fault symptoms of interest, regardless of the rotational speed. Other features with great practical application are triaxial vibration measurement, sophisticated tools for gearbox analysis, and the ability to measure process parameters. Parallel execution of multiple measurement assignments streamlines measuring routes with significant time savings.
Scania Industrial Maintenance has previously installed the Intellinova Parallel MB vibration monitoring unit on critical machines. When such a unit triggers an alarm for increasing vibration levels, preventive maintenance technicians can follow up the alarm by measuring on the unit's buffered output with Leonova Diamond, thus obtaining detailed information about the machine's current condition. Rather than performing route-based measurements on a routine basis, this approach means that measurement is only carried out when needed, saving considerable time.
Scania Industrial Maintenance, a wholly-owned subsidiary of Scania CV AB, offers a wide range of services within industrial projects and is responsible for production and property maintenance. The company has specialist expertise in, among other things, automation, control and regulation technology, electricity, and plumbing. Approximately 1000 people are employed in Södertälje, Oskarshamn, and Luleå.