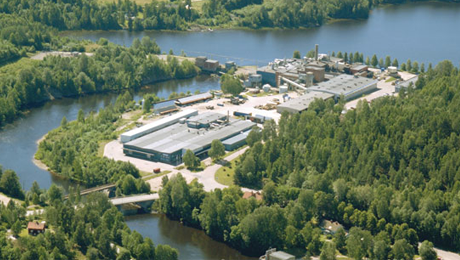 Nordic Paper Åmotfors invests in Leonova Diamond for condition monitoring
Nordic Paper Åmotfors, Sweden, joins the growing number of companies adopting condition monitoring in a uniquely effective and easy way by means of the portable instrument Leonova Diamond.
Since spring 2013, SPM is the main supplier of equipment for vibration monitoring to Nordic Paper's three Swedish mills in Bäckhammar, Säffle and Åmotfors. The standardization of condition monitoring aims, among other things, to facilitate the work and provide the opportunity to more easily exchange experiences between users at the mills.
In light of the standardization decision, Nordic Paper Åmotfors has now invested in its first Leonova Diamond, which includes the patented and award-winning SPM HD measuring technique and a powerful vibration analysis package. Previously, the colleagues at Nordic Paper Bäckhammar have invested in two Leonova Diamond instruments.
Christer Österberg, Preventive Maintenance Manager at Åmotfors, comments the investment: "We have used condition monitoring with various SPM instruments since the mid 1980s and it feels natural to continue doing that, partly because the instruments constantly have evolved and become better and better at helping us in our work with preventive maintenance, and also because it becomes a competence improvement for our personnel."
The two speciality paper machines in Åmotfors produce unbleached Kraft paper based on Scandinavian fibre. The annual capacity is approximately 56 000 tonnes. More than 90% of the production is exported.